We have all been told "wash your face every night"
Do you know why?  
Below are 5 reason I advocate for washing your face EVERY night, even if you do not wear makeup you should still wash the day off.
1. Breakouts 
makeup left on your will block your pores and cause breakouts - Angry Skin!
oils from your hands sit on the face and make their way in to your pores - You touch your face often, more often than you think, do you know the average?? 16 times in an HOUR!
2. Dull Looking / Dry Skin (aging)
Not washing at night hinders the ability for natural skin cell turnover which in turn leads to dull skin
Leaving makeup on all day actually sucks the moisture from your skin and blocks the ability to produce sebum - this equals dry skin
Dry skin slows the repair process which can lead to wrinkles and dull skin
3. Irritations / Infections (eye and skin)
Many ingrediients in products (such as dyes and frangrance) can cause irritation when left on skin for long periods of time
Pores become larger and with dry skin, it loses it's elasticity.  Therefore your pores can become larger and allows the entry for infections.
4. Prevents Lashes from Breaking
Mascara left on your lashes will dry them out.  Making them brittle and prone to breakage
5. Makeup applies and sits better on your skin
Yes you read that right, with hydrated skin, you makeup will sit better on your face.
Primers help as well, one that works great with drier skin is SeneGence's Pore and Wrinkle Minimizer, you can buy it here as well there are many others out there, you will need to try some to find the best fit for your skin.  I personally like Urban Decay and Tatcha found at Sephora.
But Tanya, what do I need to do to create a routine at night?
I suggest a makeup remover and then cleansing your face, to ensure that all your makeup and the days buildup is gone.
1. Makeup Remover or Cleansing Oil/Balm
One of my favourites is SeneGence Fooops, specifically designed to breakdown long lasting / waterproof makeup.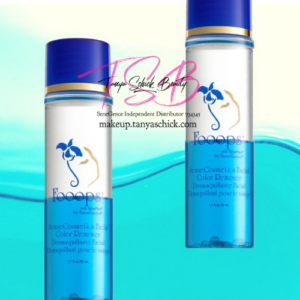 I also like Farmacy Green Clean makeup Removing Cleansing Balm - I buy mine from Sephora.
2. Micellar Water
My favourite is from Marcelle - I buy mine from Rexall or Shoppers Drug Mart
This is also a staple in my makeup artist kit, works amazing for quick clean ups.
3. Makeup Removing Wipes
I love the SeneGence Fooops Wipes, they are great for travelling!!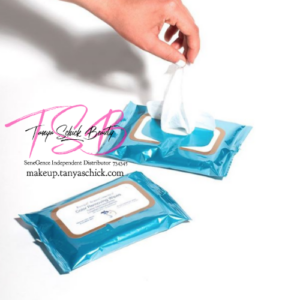 Then wash your face. 
If you want you can also do the double cleanse - washing your face twice, once to remove the surface makeup and daily grime and the second to really get in to the skin and cleanse it. Then follow up with any treatments and your evening moisturizer.  
If you have any questions let me know, I will be happy to help you!
Looking for a new skin care routine, I sell SeneGence products and can help customize a routine for you.  Take this quick quiz to get your skin type and send me a message.  We have a vast array of samples to try, or if you want to buy some products we have an amazing satisfaction guarantee.
Follow my Facebook Business Page or Find me on Instagram
Tanya